A private firearm lesson is recommended for those interested in advancing their shooting skill. Goldeneye Training Academy provides a 100% money back guarantee if our instructors do not make you either more accurate faster at safely manipulating your firearm!
Those who have taken a private lesson from us have taken it for the following reasons:
After a Basic Pistol Safety course is completed, some shooters still don't feel comfortable enough with a firearm and would like more one on one training.
Beginning or advancing as a competitive sport shooter.
Shopping for your first firearm.
To maintain proficiency while employed with a firearm (ex. body guard)
Cost: $80.00 (per hour, per person) – Group & Couples Rates are discounted. Call us for details.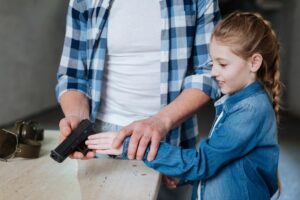 One hour of individual time
100 rounds of 22LR ammunition
Eye & ear Protection
Targets
22LR Firearms (either pistol or revolver)
Hands-on (scenario based) training
And much more…
Please bring a valid photo ID and your firearm if using your own handgun.
If you are bringing your own handgun, also bring a minimum of 50 rounds of ammunition.
Depending on the dates/times available for the client and instructor, Goldeneye Training Academy's private firearm lessons are scheduled individually.
Contact us or CLICK HERE to visit our FAQ page for more information.
Looking to purchase something as a gift? Click here to purchase an e-gift card, which could go towards any course we offer!