First Aid, CPR & AED Course
Are you a babysitter, corporate company, or general lay-person looking for certification through a First Aid, CPR & AED Course?
Does your employer require that you have your CPR/AED or First Aid Certification?
A CT Daycare staff or other child development center required to maintain the Pediatric First Aid Certification?
Construction worker or other industry requiring OSHA certification?
Seeking career advancement or a promotion in salary?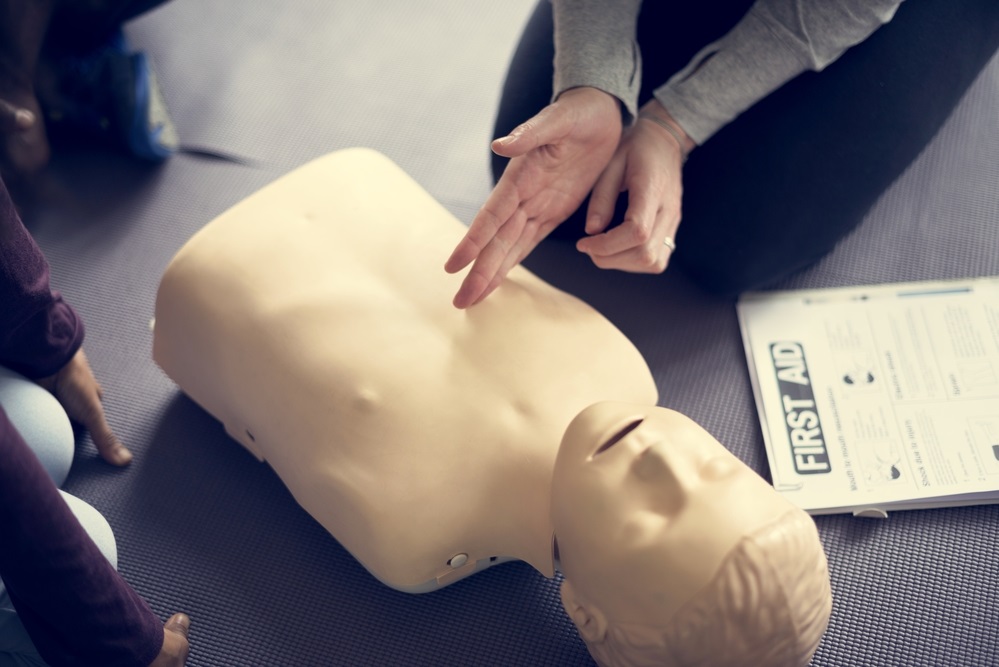 First Aid, CPR & AED Course
With the availability of First Aid CPR & AED training in every area, the ability to learn this important lifesaving technique is open to everyone.
​
Cardiopulmonary Resuscitation (CPR) is an emergency procedure that combines chest compression's often with artificial ventilation in an effort to manually preserve intact brain function until further measures are taken to restore blood circulation and breathing in a person who is in cardiac arrest.
First Aid CPR & AED training is absolutely mandatory for those who work in specific jobs but that doesn't mean that everyone, regardless of their career, shouldn't have a basic understanding of CPR.
This training will teach you exactly what to do when there is a cardiac arrest. It makes you capable of taking charge and being a dependable citizen. You never know when a sudden crisis may threaten the life of your loved ones. Timely and competent measures are needed to overcome such life-or-death crisis situation.
Goldeneye Training Academy's First Aid, CPR & AED course will give you confidence and preparedness that will be priceless in the event of an emergency.
Our instructors are certified with the American Heart Association.
Our team of instructors have a combined 15 years' medical experience that translates into practical application.
Knowing how to perform this relatively simple technique can arm you with power and prepare you for anything like can save the life of a stranger – or someone you love.
Get Certified and advance in your career.
Please note that this course is not designed for the healthcare provider and is a basic First Aid, CPR and AED course. For Healthcare Provider CPR Course, CLICK HERE. (BLS)
Course Costs:
CPR/AED Course (6 Hours) Cost: $89.00
First Aid Course Cost: $89.00 (2 Hours)
First Aid, CPR & AED Course: $125.00 (8 Hours)
Pediatric First Aid, CPR & AED Course Certification Cost: $125.00 (CT Supplement Complaint) (8 Hours)
Bloodborne Pathogens Cost: $49.00 (OSHA compliant)
PLEASE NOTE: All of these courses are only offered in a blended (online and in-person) format at this time. Students must complete the online portion, followed by the hands-on skills session conducted by our Training Academy Instructors. Students who successfully complete the online course and skills session, will receive a Course Completion card, valid for two years. When paying the above amounts and registering for your course, you will be emailed separately with a keycode (between 24 – 72 hours) to begin the online training course. Once you are completed, contact our office to schedule your skills session for a date and time convenient for you.

The AHA's Heartsaver courses train participants to provide first aid and / or CPR as well as the use an automated external defibrillator (AED) in a safe, timely, and effective manner, depending on which combination of courses you select.

Topics covered include:
All classroom and practical material
Use of CPR manikins & masks
Use of a training with an AED
Use of training with an Epi-Pen
Will provide the CT Supplemental Information, Training and Certification (Pediatric Course Only)
Knowledge on how to treat: environmental emergencies, allergic reactions, assessing the patient
Looking to purchase something as a gift? Click here to purchase an e-gift card, which could go towards any course we offer!