FIREARM RETENTION TRAINING COURSE
Interested in learning how to retain your firearm?
Are you a permit holder who carries your firearm outside of the home for self defense?
Or maybe an armed security professional who carries a weapon during working hours?
Learned how to shoot a firearm but was never taught on how to retain it in the event someone went to grab it?
You've Come to the Right Place!!
The four (4) hour firearm retention course is not only for security professionals, but also for firearm permit holders, business owners, and anyone else who may have need to carry a firearm.
This training program was developed specifically for private gun owners as well as armed security personnel. If you ever thought on how you would defend your firearm during a physical assault or attempted disarming, then look no further. This training has always been an integral part of law enforcement training and preparation. Our training course is tailor-made to fit the needs of the general public and armed security officers.
Learn to protect and keep your weapon safe and in your possession, while in its' normal carry position during an assault or physical confrontation, or after you have drawn it during an encounter.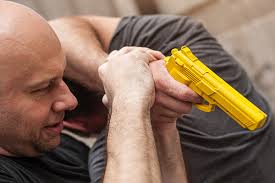 If you currently live in or are visiting Connecticut, then you have come to the right place.
WHY CHOOSE MY FIREARM RETENTION COURSE?
Our staff are Certified Instructors, with backgrounds in Law Enforcement and / or in federal government agencies and have combined extensive training in firearm retention techniques.
Local, State and Federal Laws only require a basic safety knowledge of firearms and most curriculums only consist of those basics. Firearm Retention Techniques are not included in any of those curriculums but are necessary to maintain safety.
Blue Training Guns
Holster for Training Guns
Mental Preparation & Awareness
Universal Protection (Initial response to aggression)
Holstered Weapon Retention
Un-Holstered Weapon Retention
Disengagement and Follow-up Considerations
Alternative Force Options (OC Pepper Spray)
Deadly Force Decision Making
Complimentary beverages and snacks
And much more…
Please bring CT Permit to Carry Pistols and Revolvers and note taking material. Also, please wear comfortable clothing and shoes as well as a sturdy leather belt. Dress in clothing that you would normally carry in. If you are an armed professional, please wear your uniform pants, shoes, and duty gear. Firearms may be brought to the class however students will be asked to unload all of their firearms and keep them unloaded and secured in a locked container until the course is concluded.
Looking to purchase something as a gift? Click here to purchase an e-gift card, which could go towards any course we offer!